Crimping network cables
(Updated: )
Although most of us (including me) are familiar with making our own network cables/jacks, I recently wired network cable in my house learned some new things/abbreviations on cable thickness, cable material, pin termination, cross-over vs straight cables. I document my findings here for reference and case I forget in the future ;).
Glossary ¶
Hardware ¶
Cable ¶

Get a UTP cable cable. Things to watch out for:
CATx: CAT6 for Gigabit, or more if you're ambitious
AWG: Ideally around AWG 23
Solid copper wires or stranded in case of need for flexibility (thanks sebastius)
Shielding is nice but only needed in high noise environments (maybe next to electricity wires).
Material: watch out for cheap cables which have copper-clad aluminium. To test, put the wire in a flame, aluminium will melt/burn, copper will stay intact (although this test methods means you need to have the cable )
Connectors ¶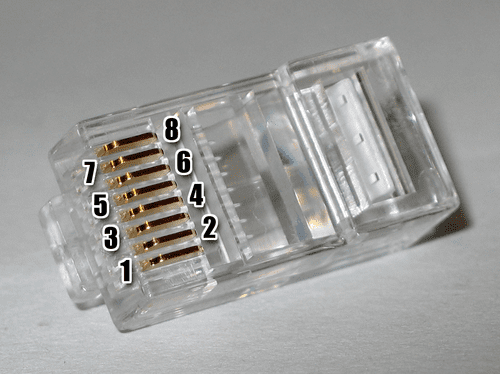 Get RJ45 jacks
Installation ¶
Pull the cable where you need it, when pulling them through tubes, lubricate with Vaseline or similar if you have difficulty. However note that vaseline might dry out and make the next pull more difficult (thanks RobIII).

Terminate the cables, either in a wall socket, or with a RJ45 plug. When terminating, be sure to:
ensure you terminate each cable to the same pin on both ends ('straight'), cross-over cables are not necessary since 1998 when Auto MDI-X was introduced.
When connecting the cable to the wall socket, a punch down tool might help in case of IDCs.
When connecting the cable to a plug, ensure you have a crimping tool.
It matters how your terminate the wires on each end (thanks vanaalten), T568B (thanks Wildfire) is used by default so stick to this.